Pottery and then ceramics, have been a part of most civilisations and all continents. One of the oldest human inventions, pottery can be divided into earthenware, stoneware and porcelain.
Its history and archeological research has helped with understanding the developments of societies and culture. Whether we look to prehistoric pottery, to Sub-Saharan Africa, back to Mesopotamia, to the Hellenic Republic, Roman, Japanese, Chinese, Ottoman Empire, The Korean Peninsula, Armenia, The European continent or the shores of Britain, pots, vases, cups or any man-made object framed the everyday, networks of trade, and artistic development.
In these challenging times, where the world is facing COVID-19, most of us turned to technology to connect, but also to nature to disconnect and reassess. Feeling close to the earth, can yield much emotion, and it is with that in mind, that we have gathered some pots of wonder and ceramic glory that we had came across by some brilliant artists, to feast your eyes on. Check them out further through their links:
---
Eileen Cooper
Eileen Cooper is a master of painting figures, drawing us into her world through movements, the everyday and emotions. Her subject matters are autobiographical, but her work also echos and reflects a shared sense of our everyday feelings. Her sculptural figures are strong and bold yet poetic and tender.
---
Lucille Lewin
Capricious Narrative
Language of Tears and Laughter
Language of Tears and Hope
A New Chapter
@youngmastersartprize @cynthiacorbettgallery @saatchi_gallery @craftscouncil from #Collect2019

Lucille Levin's art references the microscopic photographs of the natural world of Karl Blosfeldt and the Victorian Cabinet Of Curiosities, exploring the relationships between chemistry, form and process.
Porcelain sculptural art that is the "result of research into the origins of 18th Century European porcelain and the alchemists who invented it."
These artworks evocatively entitled are part of the ongoing series The Time between the Time and looks at "how we find ourselves as humans in this chaotic world of ours"
---
SU XIANZHONG
Hanging Paper by Su Xianzhong @tingyingstudio seen at @craftscouncil @saatchi_gallery #Collect2019
Artist Su Xianzhong comes from a family of respected traditional porcelain sculptors, and has established himself as one of the influential ceramists within contemporary Blanc de Chine. Constantly pushing the boundaries of tradition and technique, the artist has created sculptural forms that fuse both the contemporary and tradition. In 2018, Paper No.1 by Su Xianzhong was permanently collected by Victoria and Albert Museum in London, UK.
---
Rachid Koraïchi
"Les Maîtres du Temps" by Rachid Koraïchi seen at @dominiquefiat @beirutartfair
Ceramicist, sculptor and print-maker Rachid Koraïchi, was born in Algeria, and fuses into his work influences from his Sufi upbringing, integrating calligraphy in his contemporary artworks.
His work merge symbols, spirituality, philosophy, calligraphy, metaphysics and expressions, propelling visual thoughts and scripture through ceramic art.
---
SUDARSHAN SHETTY
@sudarshanstudio @galerietemplon @artdubai
Conceptual artist Sudarshan Shetty lives and works in Mumbai. His hybrid constructions question the fusion of Indian and Western traditions as well as exploring domestic concerns.
The concept of these ceramics stem around fusion. Merging materials and thus their visual impact, emotional feel and conceptual notions. Repairing the broken ceramic jars with the material of wood, juxtaposes earthiness and glossiness.
---
Roberto Lugo
Roberto Lugo is an American artist, ceramicist, social activist, spoken word poet, and educator. Lugo uses porcelain as his medium of choice, illuminating its surface with imagery of poverty, inequality, and social and racial injustice.
---
Ai Weiwei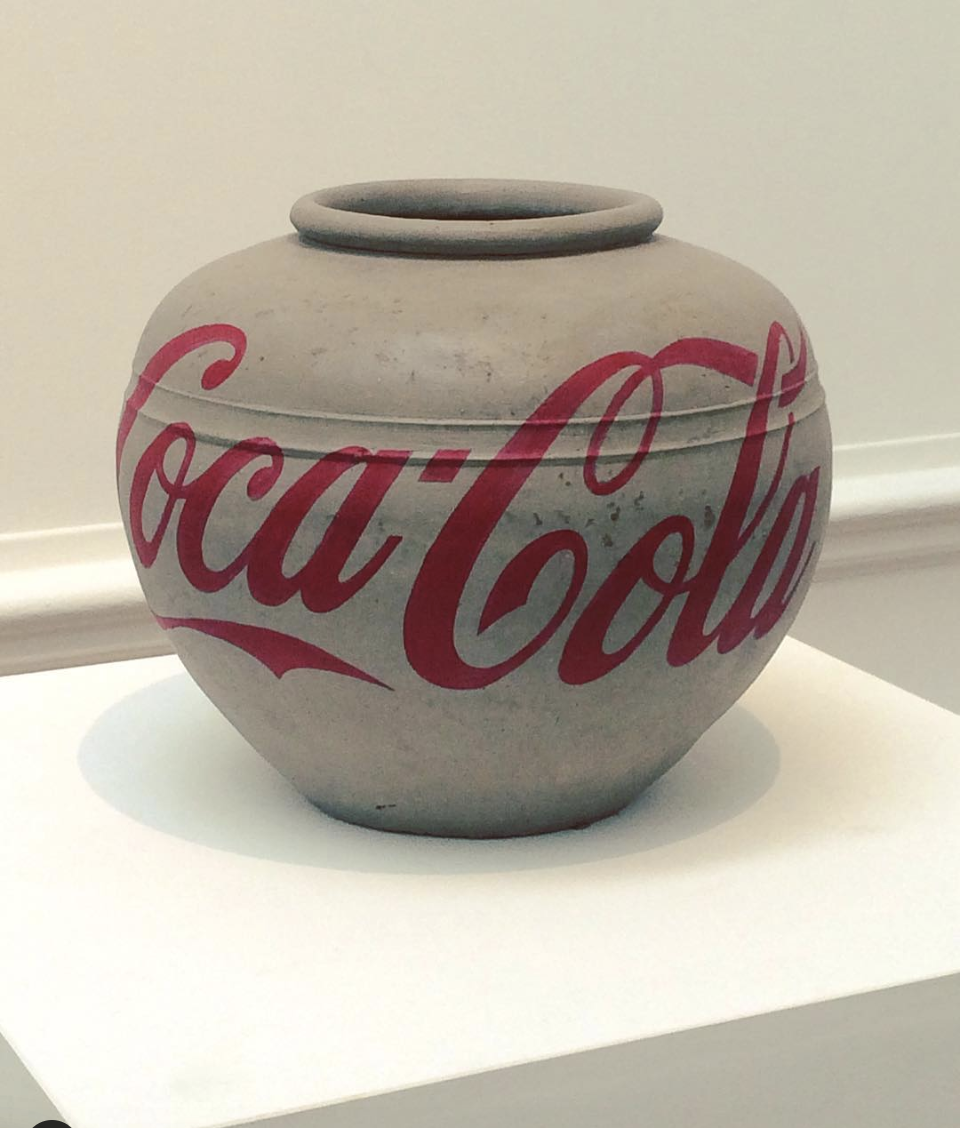 art by @aiww from his exhibition retrospective @royalacademyarts
Ai Weiwei's art bridges politics, traditional and conceptual, artefact and branding, past, present and future, bringing forth thoughts on consumerism and value.
---
Los Carpinteros
Porcelain biscuits seen @sursockmuseum
Galletas by Los Carpinteros are a set of 20 ceramic cookies each inscribed with a word that appeared in Spanish speaking newspapers in the year 2013.
The artwork by Los Carpinteros combine the appetising allure of a cookie and the allure of mass media as well as their mass production and daily consumption.
---
Seo Kwang-Soo
Seo Kwang-Soo is a South Korean artist, this "untitled piece in which a blue and white porcelain jar bends and embraces the adjacent smaller vases and jars resembles a mother's heart". @icheon_ceramic @lvscraft seen at @craftscouncil @saatchi_gallery #Collect2019
---
Gregory Tingay
Artist Gregory Tingay has trained under some of the most distinguished potters of the 20th century. At Buckfast Abbey he was apprenticed to Mary Boys-Adams, a pupil of Bernard Leach, and at Quarr Abbey, Molly Attrill was his mentor. Gregory Tingay worked and taught at Dartmouth Park Pottery in North London for ten years. Hauser and Wirth Somerset selected him as their Artist in Residence in the summer of 2019. The artist is particularly known for his sgraffito pattern-making and is the co-founder with Lucy Attwood of Studio Pottery London
---
Michel François
Having been an artist in residence at the Leach Pottery, St Ives, Cornwall, Michel François set up his own studio in Falmouth. The artist's work has been shown extensively in the UK and internationally, most recently he was invited to show a new body of work at the Korean National Craft Museum in June 2019, exhibiting his moon jars alongside the work of Professor Seo Young Gi.
---
The Chelsea Potter (Jago Poynter)
Jago Poynter aka The Chelsea Potter, focusses his attention on form, colour and the existential qualities of an object. Bridging a minimalist style with a traditional technique, rendering his contemporary artworks distinctive protagonist in any setting. Having trained as a potter with a degree in ceramics from Cardiff School of Art and Design, he is both a designer and a maker, working between studios in London and Jingdezhen, China, and developing his practice within industry.
---
Burçak Bingöl

Ceramic Rose Garden @burcakbingol @zilbermangallery seen @artdubai 2017
Artist Burçak Bingöl's works explore notions of belonging, cultural heritage, identity, and decoration. By blurring the boundaries of these notions, the works blend between abstraction and representation, rejection and preservation, Eastern and Western traditions. The artists artworks are constant re-working of materials and objects to converge to a repetitive act where fiction and failure merges.
---
Office at Large (Stefania Farah)
Stefania Farah 's Phoenikan Ceramics are an investigation on Phoenician and Inkan art and roots. Each piece is unique with a distinct conversation between her personal experiences, emotions, gravity and earth, fusing traditional elements of pottery and contemporary artistry.
---
Anne Athena
@anneathena @cynthiacorbettgallery
Contemporary artist Anne Athena, holds a BA Royal Danish Academy of Fine Arts 2014 and MA ceramics and glass Royal Collage of Art, London 2019. Her work explores human behaviour, spirituality, psychology, life stories, the history of humanity and its development. Her ceramics depict surrealism, symbolism and figurative art, create narratives and stories.
---
Raed Yassin
The Mountain War, Porcelain vase, 2012 from the Yassin Dynasty Series by @raedyassinstudio
'The Unification of The Rifle', Porcelain vase, 2012 from the Yassin Dynasty Series by @raedyassinstudio seen at @artdubai
Raed Yassin is an artist and musician who developed his conceptual practice through multiple mediums such as video, sound, photography, text, sculpture and performance. His work examines his personal narratives and their position within a collective history.
"Yassin Dynasty is a series of porcelain works depicting several battles from the Lebanese civil war (1975-1990) produced in Jingdezhen, the porcelain capital of China. [...] The Yassin Dynasty works are part-beautiful object, part-historical document, and part-mass-produced product. They echo the ancient tradition of recording victories at battle on vases and ceramics for the sake of posterity, and suggest that countless objects painted by different porcelain masters are being reproduced under the same fictional "dynasty". The works also embody the image of a Chinese decorative readymade object that could possibly be found in any Lebanese home." @raedyassinstudio